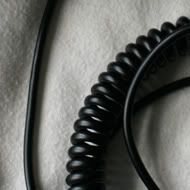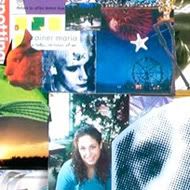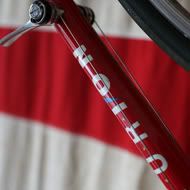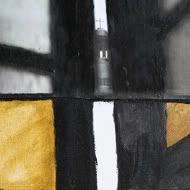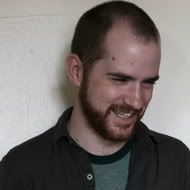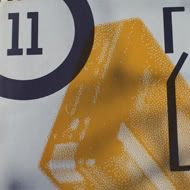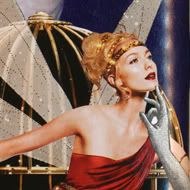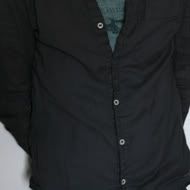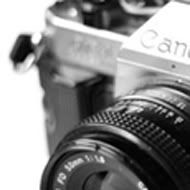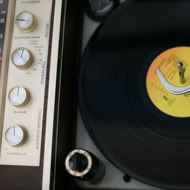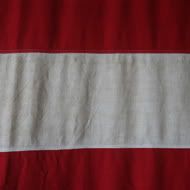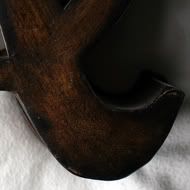 Quentin explains his choices:
1. Sennheiser 280 Pro headphones
-- I've always liked music, but I live in a noisy apartment next to the Interstate, so having noise-canceling headphones is important. They sound amazing, but they look really, really geeky on.
2. collaged table
-- I bought the table at Goodwill for $10, but the surface was beat up. I spent three or four months during my freshman year collaging the top of it.
3. 1983 Centurion LeMans RS bicycle
-- When my mountain bike was stolen, I wanted something thinner and faster. Bikes are like couches and kids: There are already too many in the world, so you should buy them off Craigslist. I do have a feeling, though, that the guy I bought this one from on Craigslist may have stolen it, which makes me sad.
4. painting of San Francisco Church and Catacombs in Lime Peru
-- A friend of mine who is a photograph took the photo this is based on while traveling in Central America. Then she painted the picture when she got home.
5. Emigre Magazine(s)
-- They started publication basically the same month that the Apple computer came out. They're design magazines. A teacher/mentor recommended them to me in college, and ever since, I've been collecting them.
6. collage notebook
-- I've always enjoyed collages. A couple years ago, I started this notebook after having a similar one in college. Once every week or two, I sit down and do a few pages. It's like a private journal that I can show to the world. People see one thing, but they mean something different to me. They hold specific stories for me, but no one else picks up on them because they don't know the contexts.
7. Canon AE-1
-- I learned how to shoot photos on this camera, which a high school friend gave me.
8. 1967 Magnavox Astro-sonic HiFi record player
-- For a couple years, I wanted one to play old records on. This is one of the first that they made that was solid state, so I won't have to replace any tubes. It came up on Craigslist for $50 a couple of blocks from my house.
9. Big American flag
-- Ryan Adams reissued his first three albums on vinyl recently. Around the same time, I moved into a new apartment. I liked the way the bedroom on the back of Gold looks, so I decided to recreate it. I found a cheap flag on eBay.
10. Q
-- That same friend sent me a letter in the mail.
***
Eds note: Some of the images are courtesy of Q, who scanned them in for nicer lookin'